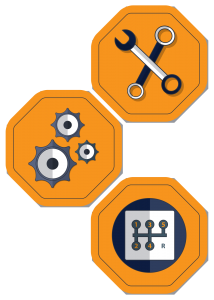 It's important to find a garage you can trust when searching for car and vehicle repairs in Bellshill and Glasgow. Your vehicle is a big investment and an integral part of your life, so when car repairs are necessary it's essential that you only allow the right people to do the work. This is why you should reach out to the friendly, professional team at Calder Road Garage today.
With over thirty years in the industry, we have the experience necessary to tackle a wide range of common motor repairs on a number of classic and modern vehicles. When you're looking for affordable car repairs Glasgow motorists consistently recommend, you'll always find yourself at Calder Road Garage.
Interested? Ask About Our Mechanical Car & Auto Repairs
Call Now: 01698 747484
---
Suspension
At Calder Road Garage we can undertake all manner of suspension work, ranging from minor adjustments to comprehensive rebuilds. No matter the size or the scale of the suspension work your vehicle needs, you can guarantee the same dedication and high-quality workmanship from all of our mechanical professionals. Whether it's a beloved classic, a commuter necessity, or the family wagon – bring it along to Calder Road Garage when you want to make sure your suspension is consistently cared for.
Fuel systems
Fuel systems can be complex, which is always a worry for motorists because complex jobs often mean obscene bills at the other end. Not so with Calder Road Garage! We have the necessary experience to make us adept at working on fuel systems from all major manufacturers. Whether it's repair, replacement, or fault-finding, you can rest assured that we'll do the necessary work without running up an obscene bill on your behalf. Despite its affordability, the quality of our work is never compromised – which is essential when you're dealing with something as important as a fuel system.
Steering
Finding issues with your vehicle's steering can be a nightmare – but at Calder Road Garage we'll take the sting out of the process. Whether your vehicle has a glaring fault or requires our experienced eye to find the nature of the issue, your satisfaction is guaranteed. Needless to say, when it comes to your vehicle's steering you don't want to cut corners – anywhere. This is why we're proud to offer our customers an extremely thorough service, to make sure your vehicle is as safe and predictable as possible in its handling.
Brakes
No two vehicles wear through their brakes the same way, which is why you need an experienced mechanic to make sure your vehicle is as safe as possible. Of course, when your brakes are tired it can cause all manner of problems – primary among which is your stopping distance being highly compromised. But there's no need to panic when the team at Calder Road Garage is here to look after your vehicle's brakes. Whether a brake rebuild, replacement, or just a simple check-over is required, our service is second to none.
Computer Diagnostic Reports
Modern mechanics can't just rely on a spanner and wrench like they used to – if you have a newer vehicle you want to make sure you take it to a garage with the ability to handle the necessary diagnostics. At Calder Road Garage you'll find exactly that. We have the necessary equipment to read your vehicle's diagnostics as well as print off reports if necessary. So it doesn't matter if your car is brand new and packed with the latest technology, if you ever need any motor repairs, you can bring it to Calder Road Garage.
Expert Car & Auto Repairs
For mechanical repairs that you can always trust, call us on 01698 747484