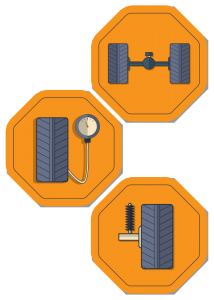 You likely already know the importance of keeping your tyres and wheels in good condition, but surprisingly few motorists understand the importance of regular alignment.
Calder Road Garage has been offering wheel alignment Glasgow motorists rely on for years, but before you pay us a visit it's important to understand what it actually is.
Get in touch with our experts today for more information, or even to get a better idea of the problem before visiting us.
Providing motorists in Bellshill & Glasgow with a high-quality service that they know they can rely on. Come in, or phone, and speak to us today.
Interested? Ask About Our Wheel Alignment Services
Call Now: 01698 747484
---
What is Wheel Alignment?
This is quite simply the direction your wheels face. It's also often called "tracking". It might sound simple, but over time your wheels can gradually fall out of alignment and end up facing either slightly too far outwards or inwards – otherwise known as "toe out" and "toe in".
How to Spot The Problem
At Calder Road Garage, we provide wheel alignment Bellshill motorists have been counting for over thirty years. As a part of that, we've noticed that customers whose vehicles need our alignment services often complain of the same sorts of symptoms.
One you may recognise, when the alignment is quite far out, is that your vehicle might pull to one side when you're trying to drive straight. The vehicle may also become somewhat unstable, and not inspire much confidence in terms of its handling – if you're experiencing this it's highly important you get in touch as soon as possible. If your vehicle is not tracking straight, it's not safe to drive because not only is it more difficult to control, but your brakes will not work as effectively.
Alignment is rarely that far out of adjustment though. More common symptoms you might encounter would be a sudden increase in your vehicle's fuel consumption, or your tyres wearing both more quickly and unevenly. These are both highly common symptoms of wheels needing an alignment. Keep a listen out for any squealing or scrubbing when you're driving at low speeds, and be mindful of vibrations through the steering wheel – this might also signal your wheels are out of alignment.
If you have any doubts, it's always best to make sure – simply pop into Calder Road Garage and we'd be more than happy to check your wheels for you.
Why Calder Road?
So, your alignment is important – but it's also important to choose a mechanic you can trust. At Calder Road Garage we've been servicing Bellshill and Glasgow motorists with the benefit of our thirty plus years of experience. We take great pride in the trust we've built up in the local community – don't take our word for it, ask around!
We feel it's a point of principle that high-quality mechanical work should never be out of reach to the average motorist. At Calder Road Garage you'll always find a friendly face and a very reasonable figure at the bottom of your bill. Finding a mechanic you can trust sadly isn't as easy as it should be, so at Calder Road Garage we're always going the extra mile to prove we're worth our customers' time.
If your vehicle needs an affordable professional wheel alignment, contact Calder Road Garage today.