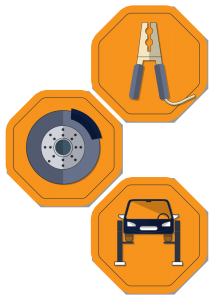 If you own a vehicle and need fast, reliable and cost-effective MOT testing in Bellshill and Glasgow, get in touch today. Here at Calder Road Garage, we have over 30 years of experience of performing MOT testing and are fully approved. Our professional and friendly service will ensure you are dealt with in the most welcoming manner for complete satisfaction.
Get in touch with our experts today to find out more about the MOT testing services we can provide as well as the incredible deals we can offer you.
Providing motorists in Bellshill & Glasgow with a high-quality service that they know they can rely on. Come in, or phone, and speak to us today.
Interested? Enquire about our MOT Testing
Call Now: 01698 747484
---
MOT Testing in Bellshill & Glasgow
Once your car is over three years old then you are legally required to have an MOT every 12 months. Failure to do so could see you with points on your licence, a driving ban or a hefty fine. If you live in the Glasgow area, let Calder Road Garage help out. Our affordable MOT testing service will ensure your vehicle meets the legal safety requirements to be driven and you have the MOT certificate needed as proof.
Our team of qualified mechanics have many years of experience in conducting these tests and know just what to do. They will carry out all the necessary checks to ensure everything is up to standard. Once passed, we will issue you with your valid MOT certificate for the next 12 months. Of course, if there are any issues detected then we will speak with you first before taking any action.
MOT's Made Easy
If you live in and around Bellshill then we are the local, easy way to get your MOT sorted out. Our handy pick up and drop off service is ideal for minimising any disruption to your normal routine. Just let us know and we can come to your home or place of work as required. We also aim to get MOT's done as quickly as possible – this means it should be done on the same day we collect or you drop off, depending on any work that needs completing. As well as advising on any major or urgent work we spot on your MOT test, we will also tell you of any minor issues to keep an eye on in the future. This allows you to plan effectively for any repair work that may be needed subsequently.
Choose Calder Road Garage
For a top-quality MOT Glasgow residents will love or an MOT Bellshill drivers will find useful, give us a call today on 01698 74 74 84. We pride ourselves on offering a personal service which sees us treat every customer as an individual. Unlike other garages, we will remember you each time you visit us!
As an official MOT testing centre, our team of friendly and professional mechanics will be able to help. With many years of experience in the trade, we can get your MOT test performed in no time at all. With fair, open pricing and top quality service, we are sure you will love what we have to offer. We are proud to be trusted within the local community and have built up a reputation for fairness over the years. With all our work guaranteed, we are the premier MOT testing centre in the Glasgow area.