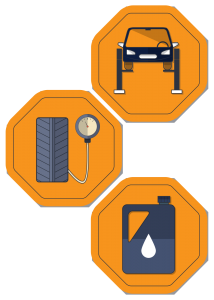 If you drive a car and live in the Bellshill or Glasgow area, we can help keep you on the road with a full car service. As Bellshill's premier MOT station and car servicing centre, Calder Road Garage is always here when you need us to keep your vehicle in top condition. From all types of cars to small commercial vehicles, our motor servicing will give you total peace of mind when driving.
Get in touch with our experts today for more information on the services we can provide as well as the excellent deals we have to offer.
Interested? Get in Touch For Car Servicing
Call Now: 01698 747484
Find Us: 154 Calder Road, Bellshill, ML4 2PL
---
Car Servicing in Bellshill & Glasgow
The easiest way to understand auto servicing is to think of it as a regular health check-up for your vehicle. You may not always realise as you travel in it each day but driving can be tough on your car. From potholes in the road to tyre treads wearing out or wear on your brakes from constant use, your vehicle is put under a lot of stress. Regular servicing allows for a qualified mechanic to check out the various parts of your vehicle to make sure they are in good working order still. If not, they can be replaced before posing any danger to you or others when driving.
It is this safety aspect that is most crucial and what makes regular auto servicing so vital. If something were to break or stop working in your car as you were driving along a busy road, the consequences could be disastrous.
How Often Should you get Motor Servicing?
This is a hard question to answer in general terms as it will be different for each vehicle. The best thing is to check your vehicle handbook as this should tell you what you need to know. However, as a rough guide, most people will service their vehicle every 12 months or 10,000 miles – whichever comes first.
What is a Standard Auto Service?
Auto servicing is fairly high-tech these days with diagnostic tools and computers used to check vehicles over. Of course, there is still the need for a qualified mechanic to cast their eye over the car too and perform visual checks. Most standard motor services will involve a change of oil and filter along with looking at how clogged the air filters are. Beyond that, it generally involves a thorough inspection of all the major parts of your car such as the tyres, brakes, lights etc…
Choose Calder Road Garage
For car servicing Glasgow residents will love, we are the number one choice. With over 30 years of experience in the industry, our team of friendly, qualified mechanics have all the auto knowledge needed to keep your car in great shape. We are very proud to have built up a reputation for trustworthiness in the local community over this time. We are committed to delivering the highest level of customer service around and to perform your vehicle's service to the most exacting standards.
Calder Road Garage has the latest diagnostic equipment installed so your vehicle gets treated with the best kit available. Our prices are the fairest around so you not only get the best motor servicing possible in Bellshill but at superb value for money. With a pick-up and drop off service for total convenience along with a possible 24-hour turnaround for some services, we are the people to trust. For complete peace of mind, all our work is guaranteed as well.